Jersey City offers its residents a dynamic urban lifestyle. As New Jersey's second-largest city, with one of the most diverse populations and lifestyles in the state, there's little need to cross the Hudson to get your fill of big-city excitement.


While much of Jersey City's vibrancy stems from the cultural cross-section of its residents, there is also a thriving, youthful energy across the city. With a median age of 34 and more than 20% of the population under the age of 18, there's undoubtedly a family-oriented vibe permeating in a number of the neighborhoods—including the tight-knit community of Hamilton Park.


As one might expect, there's also a lot in Jersey City for young families to enjoy, adding to the area's already high livability. Below are five family-friendly activities in and around Downtown Jersey City.
Liberty Science Center
222 Jersey City Boulevard
One of Jersey City's most popular destinations for families is the
Liberty Science Center
(LSC). Located at the gateway to Liberty State Park, the LSC is a 300,000-square-foot interactive learning center designed to inspire curiosity and wonder in children of all ages, including those who have long since left the classroom. The center features 12 exhibition halls, a 3D theater, massive aquariums, and a 110-specie live animal collection.
Credit: Time Out
Additional attractions at the LSC include a hurricane and tornado wind simulator, classrooms and labs, and the Jennifer Chalsty Planetarium and LSC Giant Dome Theater—also known as the Western Hemisphere's biggest planetarium and 5th largest dome theater in the world.


The center takes special care to cater to its target audience, with numerous exhibits and hands-on activities that keep kids and teens alike happily engaged. Parents love that there's plenty of cool stuff to keep their attention.


For kids with a love of science, technology, and nature, there is nowhere like the LSC in New Jersey. The center is open Thursday and Friday from 10:00 a.m. to 4:00 p.m., and Saturday and Sunday from 10:00 a.m. to 5:00 p.m.
Liberty State Park
200 Morris Pesin Drive
After taking a trip to the LSC, explore the stunning
Liberty State Park
, where you can catch a glimpse of the Manhattan Skyline and the Statue of Liberty.
Established in 1976 to celebrate the American Bicentennial, the 1,212-acre park has long been a favorite destination for residents of both Jersey City and the New York—Newark region. Liberty State Park is also home to the "Empty Sky" 9/11 Memorial, New Jersey's official state memorial honoring the 750 individuals who perished that day that lived in or had ties to the state.


Liberty State Park is the perfect place to kick-start your morning or wind down in the evening. In its current configuration, the park includes a two-mile promenade, a nature center, the 36-acre Richard J. Sullivan Natural Area, and several miles of walking and jogging paths.


Families with small children love the two playgrounds and picnic areas. Kids can play safely while parents relax and take in panoramic views of the Manhattan skyline, Hudson River, Ellis Island, and the Statue of Liberty. Additionally, should you want to share and explore the significance of the Statue of Liberty and Ellis Island with a younger generation, Liberty Park is the launch point for both through
Statue City Cruises
.
RPM Raceway
99 Caven Point Road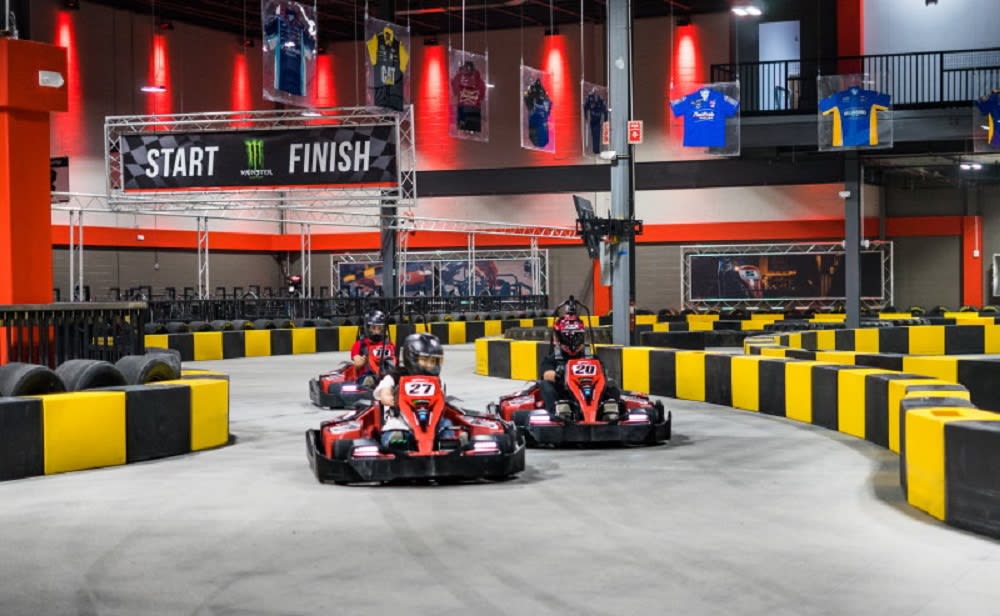 Image courtesy of Fun New Jersey
While in the vicinity of Liberty State Park, make one last stop and get your adrenaline pumping. Located just across the New Jersey Turnpike from the Liberty National Golf Club,
RPM Raceway
offers an indoor, all-eclectic karting event center. If you and your family are looking for a thrill, this is the place to find it.
Featuring two tracks and a variety of racing formats, you can race against your family, friends, or strangers up to speeds of 45 miles an hour in European-style karts. For the avid racers, there are racing leagues and memberships available.


Beyond karting, RPM is a complete entertainment destination. After you finish your race, hit the snack bar and try your hand at RPM's full-size racing simulator. Rack up a few games on the billiards tables, go old school at the 150-plus game arcade, or hop into their start-or-the-art Hologate Virtual Reality Center.
Lincoln Park
1 County Road 605
If you're looking for a park close to neighborhoods in the heart of Jersey City like downtown and Journal Square, allow your search to start and end with
Lincoln Park
—the oldest and largest park in Hudson County.
Divided into eastern and western segments, Lincoln Park is an idyllic urban oasis. For the active family, it's a must-see treasure trove of recreational facilities. Currently, the park is home to:
21 tennis courts
Seven baseball/softball diamonds
Five basketball courts
Four handball courts
Two football fields
Two soccer fields
Two children's playgrounds
a spray pool area
an artificial surface multipurpose field
a running track
a cross-country course
a horseshoe pit
full-length trails
enclosed dog run
Barbecue grilling stations, picnic areas, and seating are also scattered throughout the park.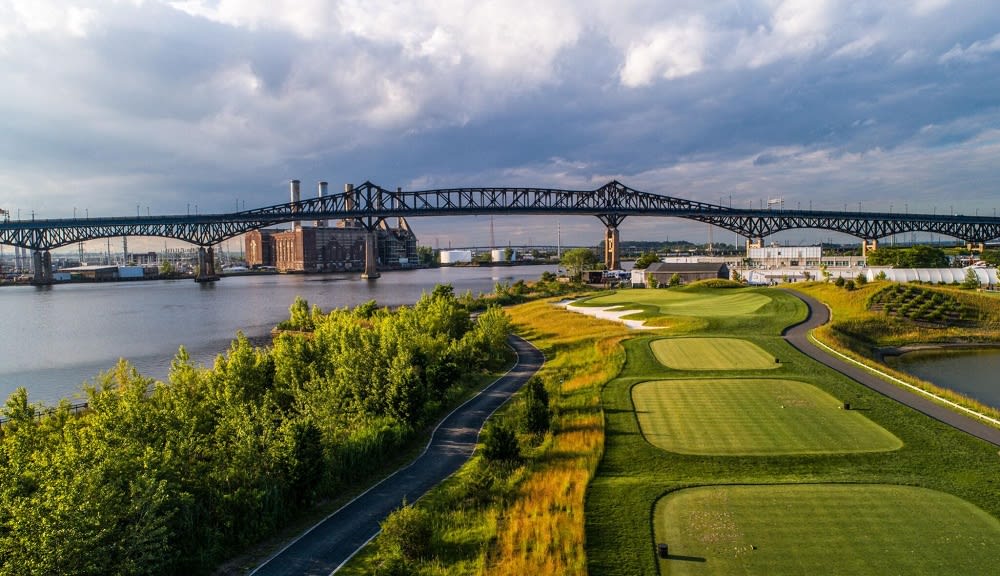 Image courtesy of Skyway Golf Course
Golfers love the public 9-hole
Skyway Golf Course
that unfolds across Lincoln Park's northwest corner overlooking the Hackensack River. Adjacent to Skyway, a natural wetland is under rehabilitation and will eventually serve as the home for a thriving habitat of indigenous birds and animals. Additionally, fishing is permitted in the wetland's Edgewood Lake.
Established in 1905 as West Side Park, Lincoln Park changed names in 1930 to honor the 16th President of the United States. Featuring several other monuments to history, the grandest of these is the 53-foot-high fountain, complete with sculpted frogs spouting water, at the park's main entrance.
Walking tour of downtown Jersey City
Various locations
Even if you've called Jersey City home for years, it's likely you've never taken a proper walking tour of the city's storied downtown. Filled with historic architecture, lush urban parks, notable landmarks,
fine-dining restaurants
, and billion-dollar views, downtown Jersey City is worth grabbing the family, eschewing anything with wheels, and trekking this wonderful urban space on foot.
Start your self-guided tour at Van Vorst Park, then head north to Hamilton Park, east to Newport Green, south along the Hudson waterfront, and into Paulus Hook before completing the clockwise circle back at Van Vorst Park. At a leisurely pace, the walk is roughly an hour and a half. Make some stops along the way to appreciate the stunning architecture and storied pasts of the Van Vorst Park, Hamilton Park, and Paulus Hook Historic Districts.


In Newport Green, the community's four-acre namesake park is teeming with family-friendly amenities. The central focus for families and young children is the huge, colorful playground. With a soft surface underneath, the vibrant play area is worth adding to your child's routine. The park also features outdoor ping pong tables, a seasonal carousel, and a sand beach.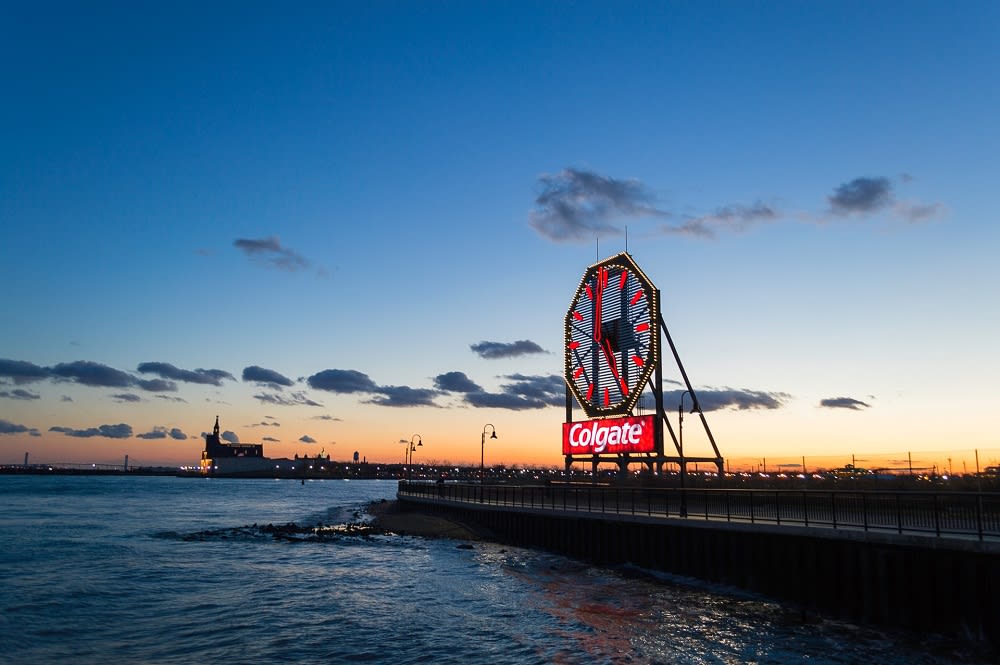 Newport Centre
also offers plenty of shopping and dining via Paulus Hook. Before heading back to Van Vorst Park, stop and catch a glimpse of the iconic
Colgate Clock
.
If you and your family find the groove of walking Jersey City to your liking, there are many more opportunities to explore the area. One of the most notable is the Bergen Hill Historic District, a mile and a half from Van Vorst Park, where you can tour a mix of mid to late 19th century architecture along Summit Avenue.
Searching Jersey City homes for sale?
If you're ready to explore the best luxury real estate listings in Jersey City, reach out to our team at
The Sutherlin Group
. We have deep expertise in the
Jersey City real estate market
, a powerful focus on customer service and a record of success buying and selling New Jersey luxury homes. Wherever you are in your Jersey City real estate journey, we are here to help.
Contact us today
.

*Header image courtesy of NJ Spotlight News