Jersey City is considered an extension of Manhattan since it is located just across the river. For many residents, living in downtown Jersey City is preferable to living directly in New York City. With its amazing panoramic views of the Manhattan skyline, the Statue of Liberty, and Ellis Island, and its mix of indie shops, craft beer bars, and beautiful parks and beaches, the area has quickly become a favorite for young adults or those looking for a change and a quick commute between New Jersey and New York.
However, while all of this has helped this city become a flourishing area, they are not the only things that make it stand out. In fact, downtown Jersey City has become a
must-visit dining destination
due to its delicious cuisines and unique tastes, showcasing food from around the world at its five-star restaurants, classic diners, and even the smaller mom-and-pop dining shops.
If you are looking for the best fine dining restaurants in downtown Jersey City, we are here to go over some of the places you need to visit.
Satis Bistro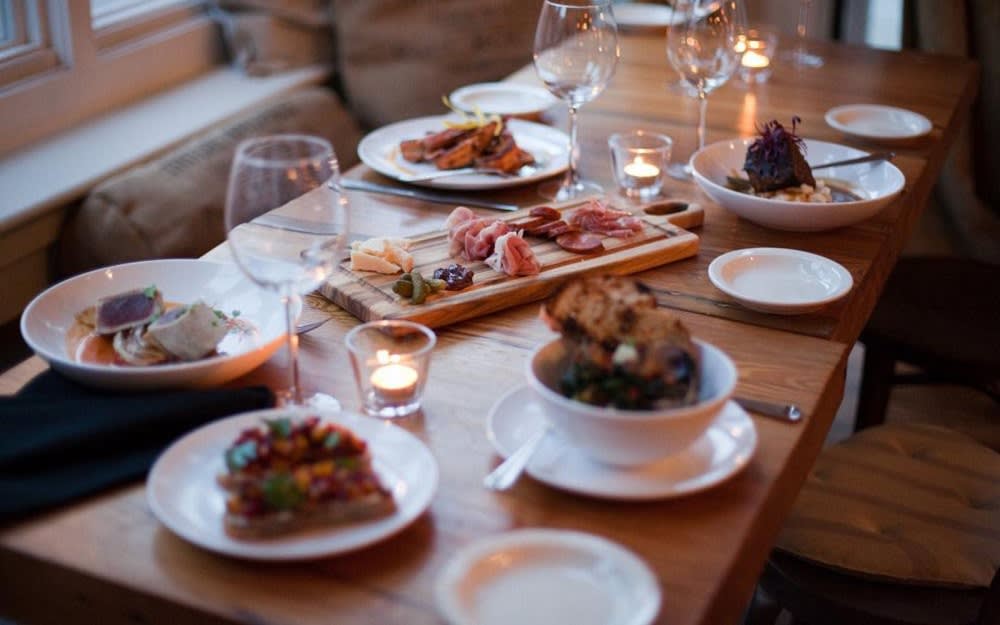 Photo courtesy of Satis Bistro
Satis Bistro
is one of Jersey City's top restaurants and a local favorite. Foodies in the area consider it a hidden gem. Located in Paulus Hook, the establishment offers not only private parties and catering, but its fine dining restaurant welcomes guests with a seasonal menu that combines flavors from Italian, French, and Spanish cuisines.
Owned by Chef Michael Fiorianti who trained under Culinary Master Thomas Keller, Satis Bistro provides its patrons with delicious food and a welcoming environment. It features high ceilings, a laid-back ambiance, and a great outdoor seating area that brings guests from all over the country to try its meals, such as its famous delectable Ricotta Gnocchi.
Porto Leggero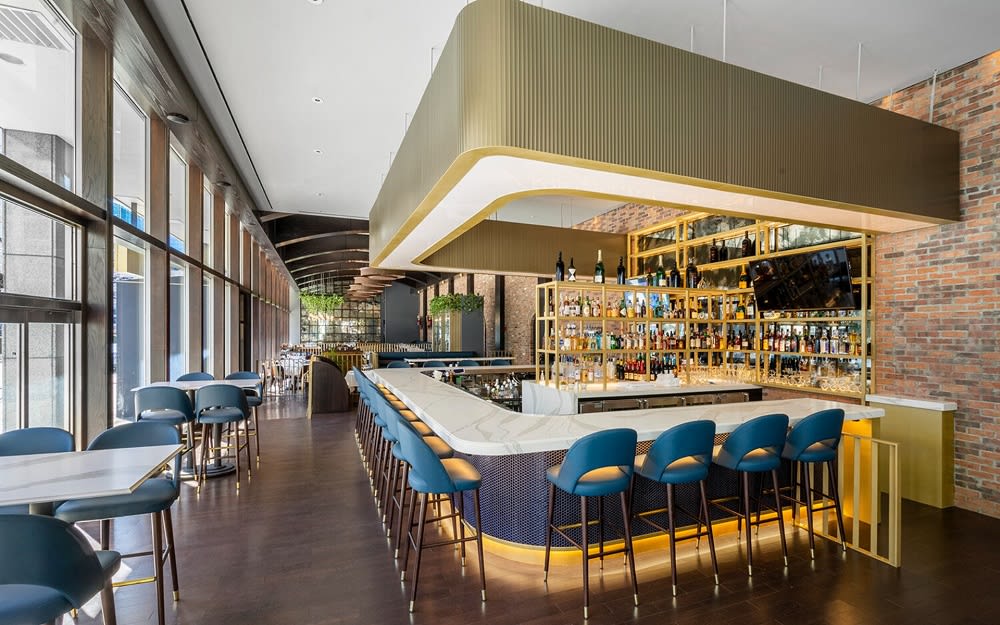 Photo courtesy of Veronica Bean
Porto Leggero
is considered one of Jersey City's finest Italian cuisine restaurants. Located in the Harborside Financial Plaza V at the corner of Pearl and Hudson Street, this upscale and elegant Italian restaurant is a star of the waterfront dining scene in the city.
The restaurant offers highly efficient service, a magnificent open setting, and a stellar kitchen. It also offers an inviting menu that features traditional dishes like mussels, as well as Chef Michael Cetrulo's delicious Rigatoni Gorgonzola. However, it is not only the food that brings people here. The incredible wine list, which holds some very rare vintages, makes the culinary experience a must, especially when the wine selection is paired with the mouthwatering cuisine.
Edward's Steakhouse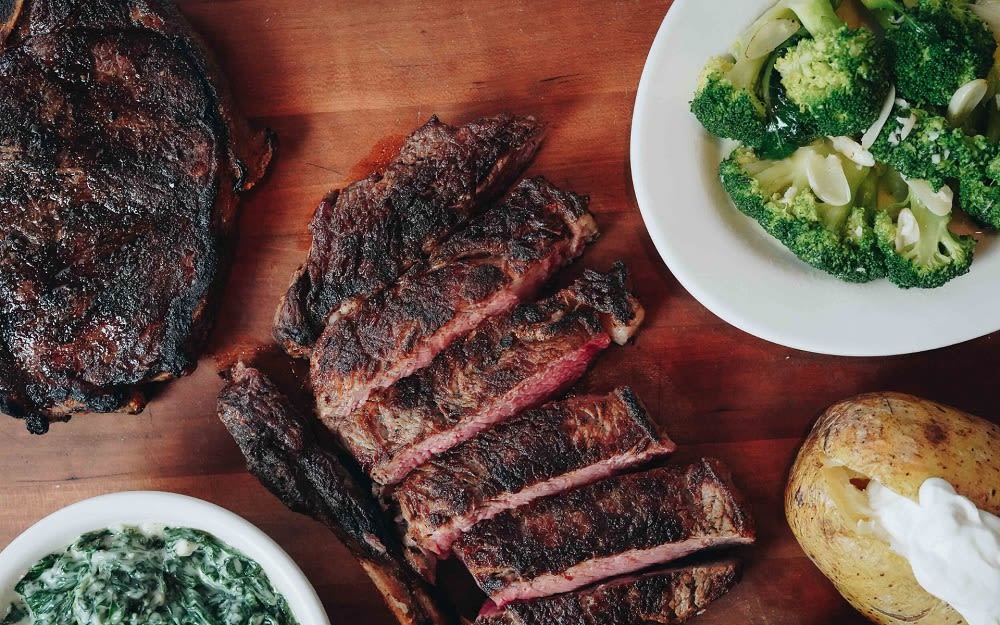 Edward's Steakhouse
is a premium restaurant located in a renovated 1800s building in the historic downtown area. However, do not let the historical aspect fool you. With its warm and inviting atmosphere and comfortable, premier setting, the venue accommodates guests for lunch and dinner and offers the finest New York-style steaks, seafood, and chops.
When you visit Edward's Steakhouse, you will be greeted by caring and mindful staff in an establishment that features two elegant dining rooms and a fully-stocked bar room that has been serving patrons since the Prohibition Era. Add in the extras such as live jazz music on Wednesdays and Thursdays, and there is no better place to visit when you are looking for a wide variety of beef cuts, raw bar, and fresh seafood.
Café Matisse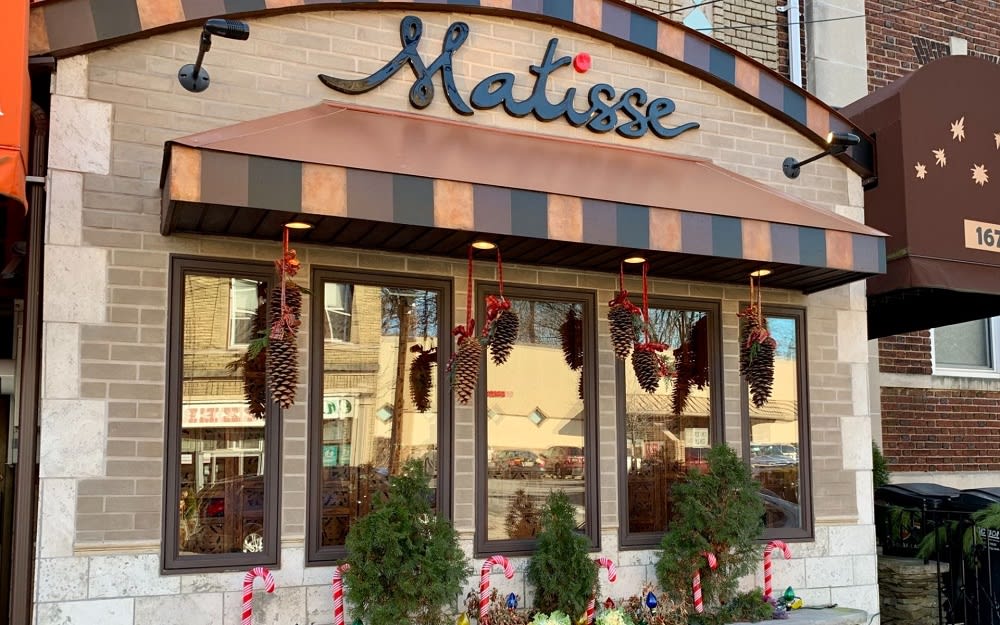 Photo courtesy of Café Matisse
Café Matisse
is located on Park Avenue and situated in a historic building that used to be a horse and buggy firehouse. Today, this restaurant contains a stunning European Garden patio and a Henri Matisse-inspired dining room which offers an atmosphere that is not only colorful with its impressionist-style paintings but also creates an inviting feel that speaks to its elegance. No wonder it is an ideal place to celebrate special days or even host private parties.
Yet, while the demand is high, Café Matisse is only open for dinner five evenings per week. However, the menu is frequently updated to offer its guests the finest seasonal ingredients, and everything is freshly prepared for each evening's reservations. The restaurant's creative fare and upscale dining experience make it a favorite in downtown Jersey City.
The Hutton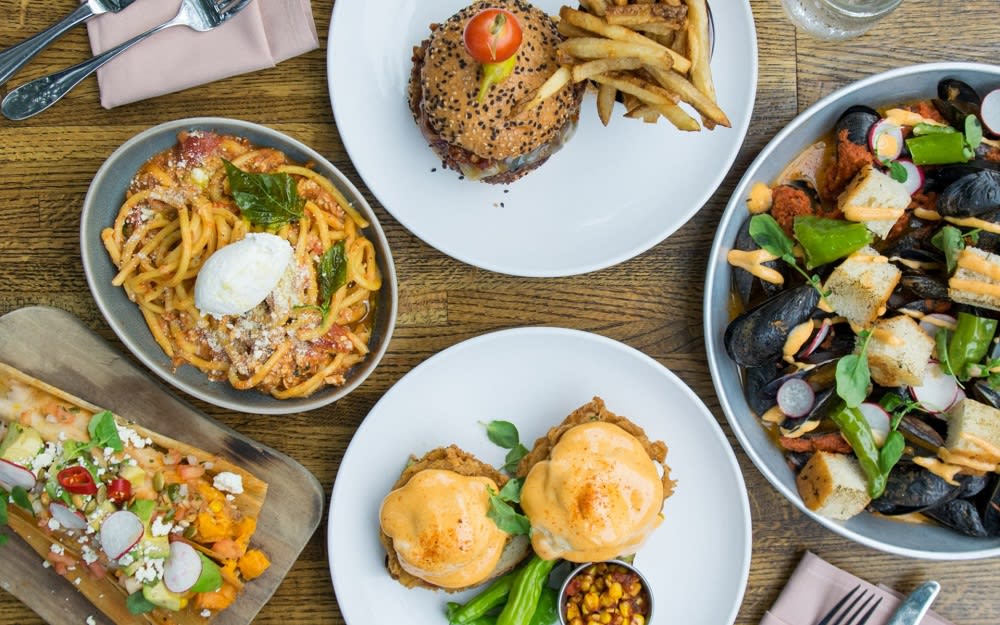 Photo courtesy of Uber Eats
The Hutton
in Jersey City prides itself on its wide array of delicious food, unique cocktails, fantastic wine list, and expansive craft beer selections. And although the style may be more casual than other fine dining experiences, the amazing food and wonderful outdoor patio area are anything but casual.
This neighborhood restaurant, bar, and wine bar is located on Hutton Street between JFK Boulevard and Sanford Place in Jersey City, where it serves appetizing dishes. The menu includes everything from Hutton Burgers to Chopped Brisket & Gnocchi, Prosciutto Wrapped Salmon, or vegan options like Sweet Potato Tamales. Yet, no matter what dish you choose, you can rest assured that the venue prepares its meals with seasonal ingredients of the highest quality and pairs the plates with a curated wine bar list, extensive beer selections, and an amazing cocktail list.
Fire & Oak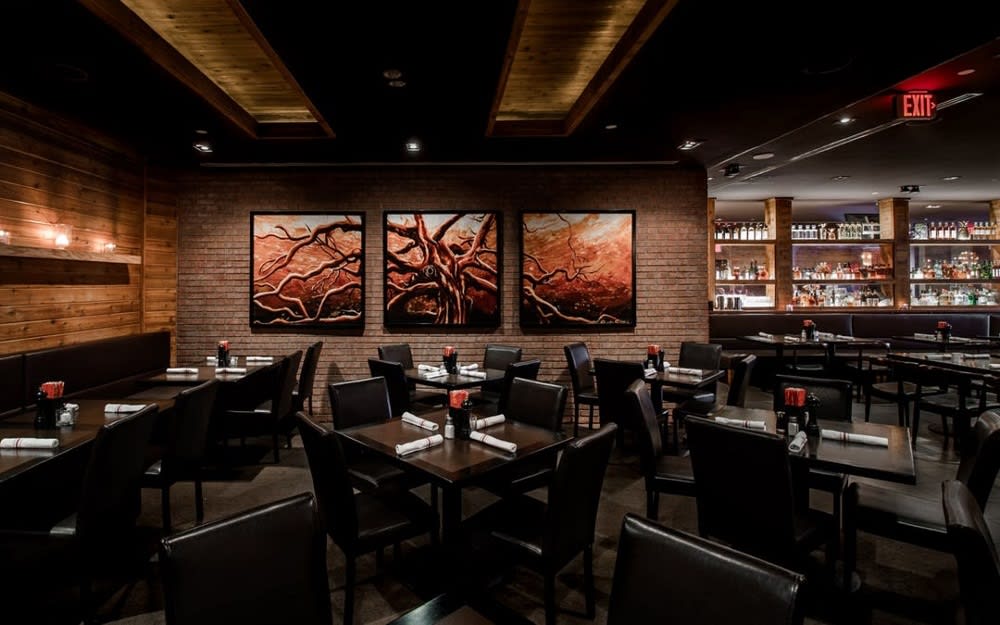 Photo courtesy of Fire & Oak
Fire & Oak
is an American eatery located in the Westin Luxury Hotel in Jersey City. With its sleek and modern look, swanky seating, and buzzing bar, Fire & Oak brings a modern take to classic American cuisine which include USDA Prime steaks, handcrafted sushi, local and seasonal daily specials, and a fantastic selection of premium sandwiches and entrees salads.
As a result, this comfortable but high-energy establishment is a great place to unwind after a long week or to celebrate special events. Plus, with its extensive selection of fine wines, signature cocktails, and local craft beer, it is an amazing place to kick back, feel welcome, and enjoy yourself all night long.
Luna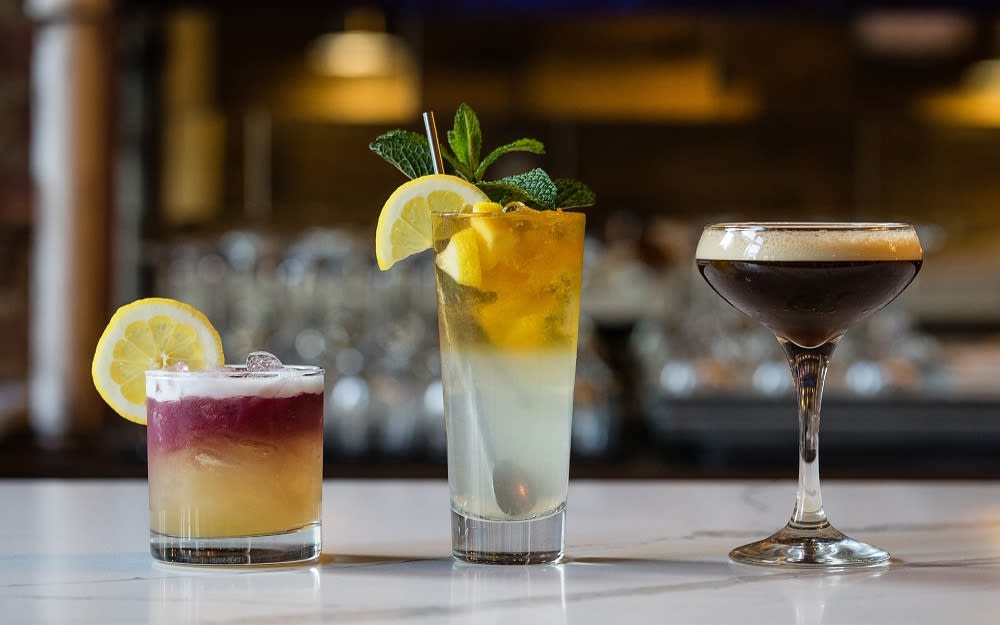 Photo courtesy of Luna Restaurant & Bar
If you are looking for unique Italian fare and craft cocktails, this bi-level, brick-lined restaurant with stylish yet rustic accents is precisely where you need to be.
Luna
restaurant and bar is located in an old, refurbished bank in downtown Jersey City and offers an amazing dining experience with its natural but clean and beautiful new look.
The menu at Luna is filled with individually crafted items that have that homemade taste and feel, while the wine, beer, and cocktail list is carefully selected to make sure everyone gets something they want. However, no matter if you start with Empanadas or finish off with Penne Vodka when you eat at Luna's, you will not only have a flavorful variety of meals but the service and food will keep you coming back to this restaurant for more.
Grand Vin
Grand Vin
is a charming restaurant and wine bar with American and contemporary Italian cuisine, including signature cocktails and craft beer. Featuring an array of flavorsome dishes made from local ingredients, this high-end but friendly environment is everything you need and want in a restaurant. Plus, since the venue is staffed with knowledgeable waiters and hosts who are there to accommodate your needs, you can rest assured you will be able to enjoy not only the perfect meal but the "Grander" side of life.

Grand Vin offers impressive dishes including Fried Zucchini Flowers, Clams Oreganata, Stuffed Avocado, and even Homemade Gnocchi. Add in their delicious Creme Brûlée or Tiramisu, and there is nothing else you will need when looking for a great dining experience.
15 Fox Place
The
15 Fox Place
eatery offers a unique dining experience. Tucked into a residential block in the Marion section of the West Side, this 1905 home full of seasonal decorations and family photos provides diners an out-of-the-ordinary "Old World" style Italian family dining experience, where patrons get to sit down and enjoy a slow-paced 14-course dinner over three hours.
While there is no set menu, if you are lucky enough to get a reservation, you can expect to be presented with a variety of delicious and well-prepared dishes. However, if you are thinking of checking out this venue, make sure you book your reservations ahead of time, as it can take a few weeks to even months before you get a spot.
Find exactly what you need in downtown Jersey City
With the influx of residents and tourists in Jersey City, the area does not need any more recognition and hype. However, with its ever-growing dining scene, new opportunities, and the ability to provide individuals with a higher quality of life, it is no wonder why downtown Jersey City is often considered New York's sixth borough.
For these reasons, if you are looking into
Jersey City real estate
, make sure you reach out to
Sutherlin Group
today. This real estate team has not only been a top-selling team in Jersey City for over a decade, but they have been number one in Hudson County for new construction sales and providing individuals with an in-depth look into the marketplace. They work round the clock to ensure their clients' needs and wants are met.