Everyone wants their home to feel like a personal oasis. We all want a place we can unwind in that provides a sense of tranquility. However, it isn't always easy to maintain the chic and sleek look we all desire. Life can get hectic and messy, and so can our living spaces. Sometimes functionality and design clash, leaving homeowners in organized chaos.
When selling a home, you want potential buyers to envision themselves living inside the space from the moment they walk through the door. This means creating a warm and welcoming environment that appeals to their desires while still satisfying their needs.
The staging process involves several techniques to improve the overall appearance of your home. In the real estate market, most sellers undergo a staging process by making adjustments to the home decor to prepare the property to be viewed by potential buyers. Adjustments can be as minor as adding chic artwork to as major as renting new furniture.
As a real estate professional with years of experience, Diana Sutherlin knows how vital home staging is. She works in several desired New Jersey
neighborhoods
, including the Jersey City real estate, Jersey City Heights real estate, Downtown Jersey City real estate, and Hoboken real estate markets. The
Sutherlin Group
helps sellers prepare luxury homes for viewing with tips and tricks on staging their properties. Closing on various kinds of homes — such as condos for sale in Jersey City and Hoboken apartments for sale — Diana Sutherlin and the Sutherlin Group use their expert insight to make the home staging process smooth and successful for everyone they serve.
Whether you're preparing to list your property or spruce up your space, check out these five home staging tips by Diana Sutherlin and the Sutherlin Group to make your home look like the magazines.
Unclutter the space
Everyone wants their home to feel like their personal refuge, and no one enjoys coming home to a messy house. This means sellers absolutely must unclutter the space when staging their homes. One of the hottest home staging trends is creating an open layout. Not only does this make the room appear larger, but it also makes it look more organized and cohesive.
Many homeowners rent a local storage unit in town to keep excess or bulk items. Having a storage unit nearby allows them to access the items if they need them quickly and keeps them out of sight when guests or potential buyers are coming in to view a home.
Remove personal items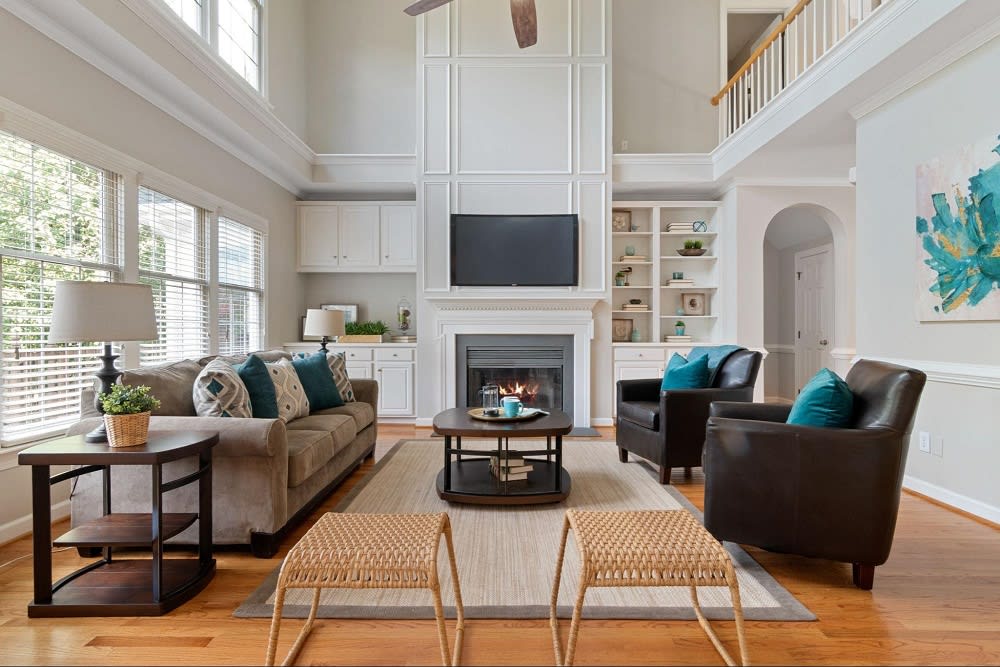 You need to neutralize your space to make your home look like the magazines. It's nice to have family memorabilia or personal photographs on the shelves and walls to make the area look comforting. Still, once the time has come to list it, these personal details you cherish can distract potential buyers.
Opt for decorative elements that appear to a broad audience to encourage buyers to imagine themselves living at the home when viewing your property. Rather than hanging photographs of family members on the wall, choose creative images of your community or a city you love and order framed prints. Using generalized images and a neutral color scheme can help to prevent you from turning potential buyers away. For instance, even if your favorite color is yellow, walking into a room where the walls are a bright shade of yellow might prevent some viewers from imagining the space differently, especially if they do not enjoy the color. It would be best to use a pale shade or an eggshell white and incorporate color by adding decorative items.
Define each room
During the staging process, each room should be distinct. In everyday life, we often arrange our homes in the way that feels most functional to us. For instance, if you have a spare bedroom used for guests, you may give it a dual purpose by making it a home office or exercise studio. While this may work great in your day-to-day life, it can appear confusing to potential buyers walking in the door and trying to understand the property. To define each room, choose one focal point and theme of the room and work around it.
Add color and texture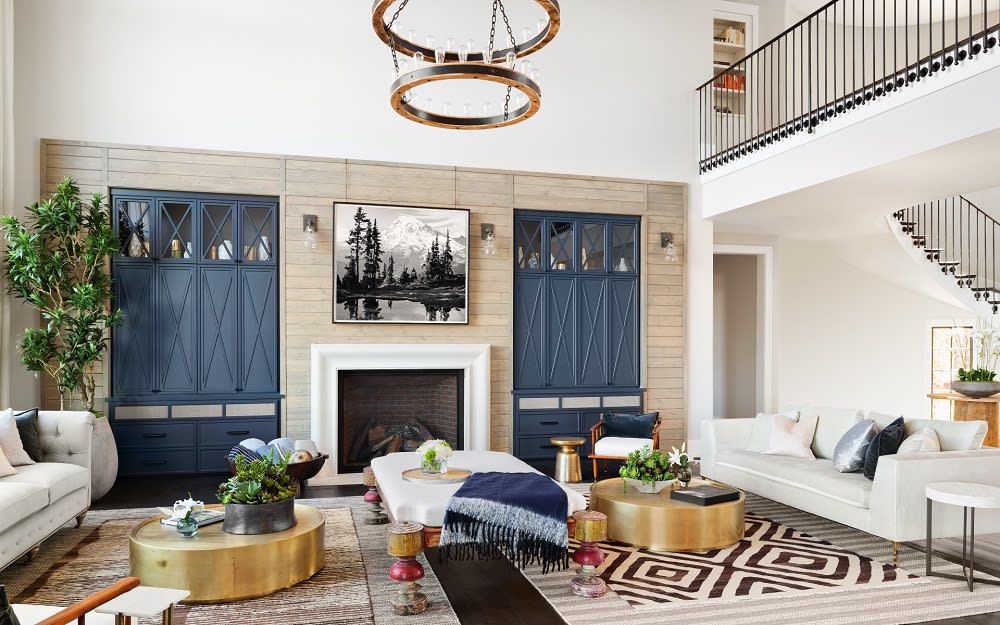 Photo courtesy of Shutterstock
Each room should feel bright and inviting, and adding color and texture to a room is one of the best ways to achieve this. Color can be added to a room in so many different ways. Sure, you can head to a
home improvement store
and pick up a new shade to repaint the walls, but you could also choose just one wall in the room to turn into an accent wall with a fresh coat of paint or some wallpaper. You could also hang a bright mixed-media art piece up on an otherwise white wall, then choose a matching throw blanket to hang over the edge of the couch.
When adding texture, think about establishing a feeling of movement in the room. Bringing nature into the room is an excellent strategy. For example, pick out a hand-crafted wood coffee table for the living room with deep decorative ridges in the wood. Or choose houseplants or potted trees to bring the outdoors inside and establish a serene vibe. Put a fur blanket on a couch with cotton upholstery to make it feel cozier. Place a brass sculpture on a bookshelf to make the display appear more classical or modern (depending on the sculpture you choose). By adding different textures to a room, you create areas that attract the eyes of potential buyers from the second they walk in.
Create an ambiance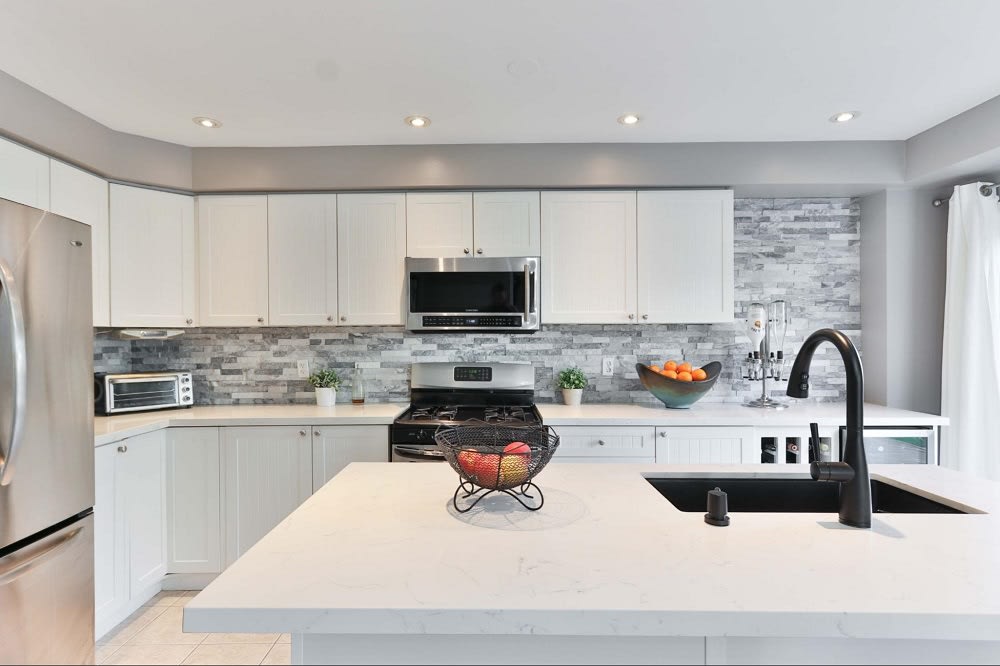 As you finish staging your home, it's time for you to create an ambiance. How a property looks is undoubtedly essential, but how it feels to potential buyers also matters. You want your property to feel warm and welcoming so potential buyers can immediately imagine themselves living inside it as soon as they walk through the door.
You can create an ambiance by adding just a few details here and there. Head to a local
home decor store
and pick up a couple of items. These details may appear small initially, but they can make a huge difference. For example, put a stylish mixing appliance and some freshly baked cookies on the countertop when staging your kitchen. When staging your bedroom, add candles to your dresser or nightstand to give the area a tranquil vibe. For your office, pick up a chic pencil holder and some trendy organizational elements so potential buyers can envision themselves already working in the space. These little details create an ambiance by adding life to each room instead of allowing it to appear stagnant.
The staging process can give a home an entirely new vibe. Change can be a good thing, whether you're preparing to list your property and move to a new home or just looking to change the atmosphere in your refuge. By making a few adjustments to your home's decor, you can dramatically impact how it looks and feels.
While some sellers choose to stage their homes independently, many choose to work with a professional
staging company
. A professional stager can assess your home's current design and presentation and oversee its transformation into a staged home for showings. Professional stagers also have valuable resources for staging a home, such as knowing where the best places to rent furniture or home decor pieces are to place around the house before it is photographed, listed, and viewed.
If you're preparing to sell your home and are searching for a professional real estate agent, contact Diana Sutherlin and the
Sutherlin Group
today. Diana and the Group have years of experience involving Jersey City homes for sale and Hoboken homes for sale; they will personally make sure your property lists at a competitive price, brings in potential buyers, and receives top dollar.
The Jersey City real estate, Downtown Jersey City real estate, Jersey City Heights real estate, and Hoboken real estate markets are hot, with new properties constantly added to the market. By working with Diana Sutherlin and the Sutherlin Group, you'll receive valuable guidance to make your home look like the magazines during the staging process. Get the edge you need to sell your property — reach out to Diana and Sutherlin Group
via their website
.