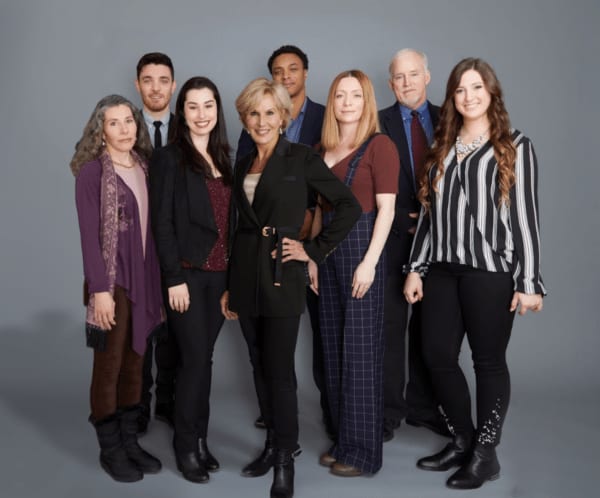 One thing we can all agree on is that, out of all the best parts of Thanksgiving (football, family, parades, even Black Friday), FOOD comes out on top. This year we gathered everyone's favorite dish and decided to share those recipes with you! We hope you enjoy them!
Mediterranean Green Bean Salad
Diana & Josie's Favorite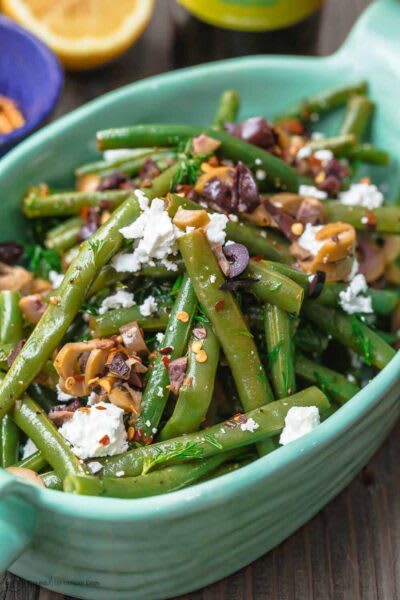 Ingredients
1-1/2 lbs. cooked green beans
1 1/2 cups pitted, sliced black olives
1 cup broken pieces of walnuts or pecans
1-1/3 cups Herbed-Cheese Salad Dressing
Herbed-Cheese Salad Dressing:
3/4 Cup Olive Oil
2 tablespoons wine vinegar
3 tablespoons lemon juice
1/4 cup chopped chives
1/4 teaspoon sugar
2 teaspoons salt
1/2 teaspoon pepper
1-1/2 teaspoons dried basil leaves
1-1/2 teaspoons dried tarragon leaves
1/2 teaspoon minced garlic
4 oz. Blue Cheese, crumbled
Recipe
Drain & cool the cooked green beans. Combine in a tightly-lidded jar all the salad dressing ingredients. Shake well. Combine in a bowl the beans & sliced olives. Add the salad dressing & toss lightly. Just before serving toss again & sprinkle with the nuts. Serves 6 to 8
Cornbread, Sausage, & Pecan Dressing
Damion's Favorite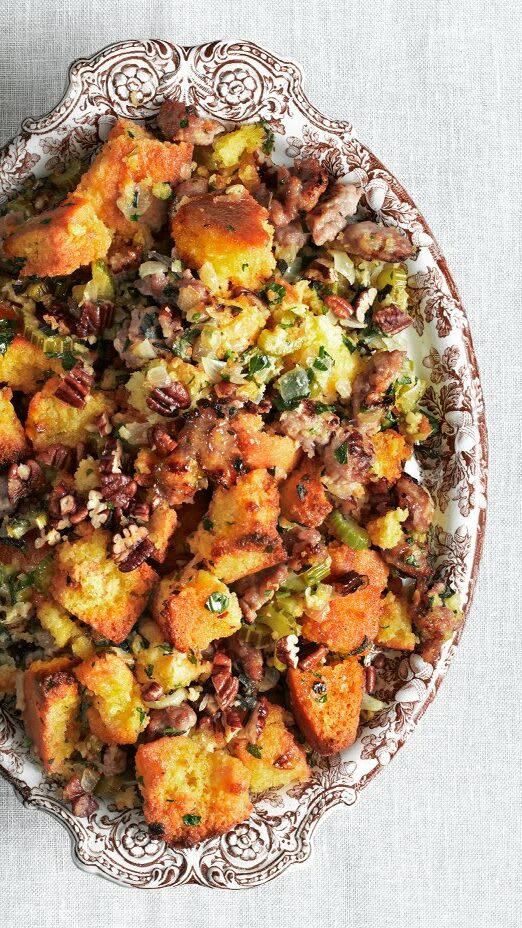 Ingredients
3/4 cup (1 1/2 sticks) unsalted butter plus more for baking dish
1 pound day-old cornbread, broken into 1 1/2-inch–2-inch pieces (9 cups)
1 pound breakfast sausage links, casings removed
2 1/2 cups chopped yellow onions
1 1/2 cups 1/4-inch slices celery
1/4 cup apple cider vinegar
3 cups low-sodium chicken broth, divided
1 1/4 cups chopped toasted pecans (optional)
1/2 cup chopped flat-leaf parsley
2 tablespoons chopped fresh sage
1 tablespoon chopped fresh rosemary
1 tablespoon chopped fresh thyme
2 teaspoons kosher salt
1 teaspoon freshly ground black pepper
2 large eggs
Recipe
Arrange racks in upper and lower thirds of oven; preheat to 250°. Butter a 13x9x2-inch baking dish; set aside. Scatter cornbread in a single layer on 2 rimmed baking sheets. Bake, stirring often and rotating sheets halfway through, until dried out, about 1 hour. Let cool. Transfer to a very large mixing bowl.
See more
.
Roasted Cornish Game Hens
Heather's Favorite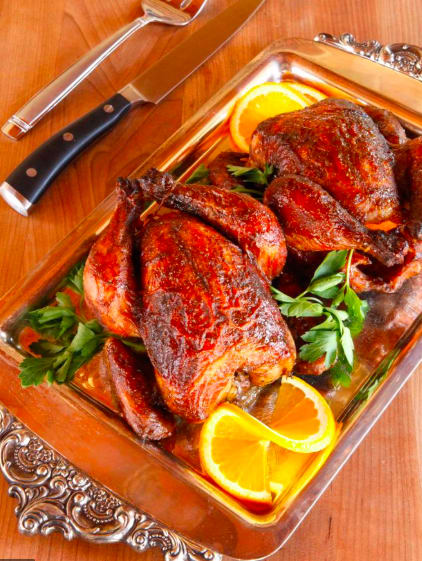 Ingredients
1 tablespoon salt
2 tablespoons lemon-pepper
1 tablespoon dried basil
1 tablespoon poultry seasoning
2 tablespoons olive oil
6 Cornish game hens, about 1 1/2 pounds each, rinsed and dried thoroughly
1 green bell pepper, large dice
2 stalks celery, large dice

1 onion, large dice
Recipe
Preheat oven to 375 degrees F.
In a small mixing bowl, stir together salt, lemon pepper, dried basil and poultry seasoning. Rub olive oil all over the hens and season each with the salt mixture. Place the hens on a baking sheet pan with plenty of space between them. You may need to use 2 pans. Loosely stuff the cavities of each hen with some green bell pepper, celery and onion. Roast the hens in the preheated oven for about 1 hour or until an instant-read thermometer inserted into the thickest part of the thigh registers 165 degrees F and the juices run clear. Remove the hens from the oven, loosely tent with foil and let rest 10 minutes before carving or serving.
See more
.
Macaroni & Cheese
Amber's Favorite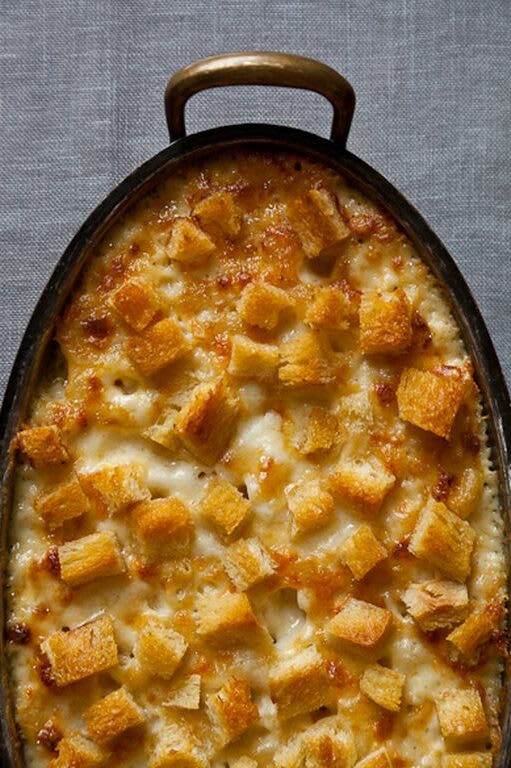 Ingredients
8 tablespoons (1 stick) unsalted butter, plus more for dish
6 slices good white bread, crusts removed, torn or diced into 1/4- to 1/2-inch pieces
5 1/2 cups milk
1/2 cup all-purpose flour
2 teaspoons salt
1/4 teaspoon freshly grated nutmeg
1/4 teaspoon freshly ground black pepper
1/4 teaspoon cayenne pepper, or to taste
4 1/2 cups grated sharp white cheddar cheese (about 18 ounces)
2 cups grated Gruyere cheese (about 8 ounces) or 1 1/4 cups grated Pecorino Romano cheese (about 5 ounces)

1 pound elbow macaroni (or other small pasta shape)
Recipe
Heat oven to 375 degrees. Butter a 3-quart casserole dish; set aside. Place bread in a medium bowl. In a small saucepan over medium heat, melt 2 tablespoons butter (alternately, melt butter in the microwave). Pour butter into the bowl with bread, and toss. Set breadcrumbs aside. Pull out 1 1/2 cups of grated cheddar, and 1/2 cup Gruyere or 1/4 cup Pecorino Romano, and reserve.
See more
.
Brussels Sprouts With Pistachio and Lime
Rob's Favorite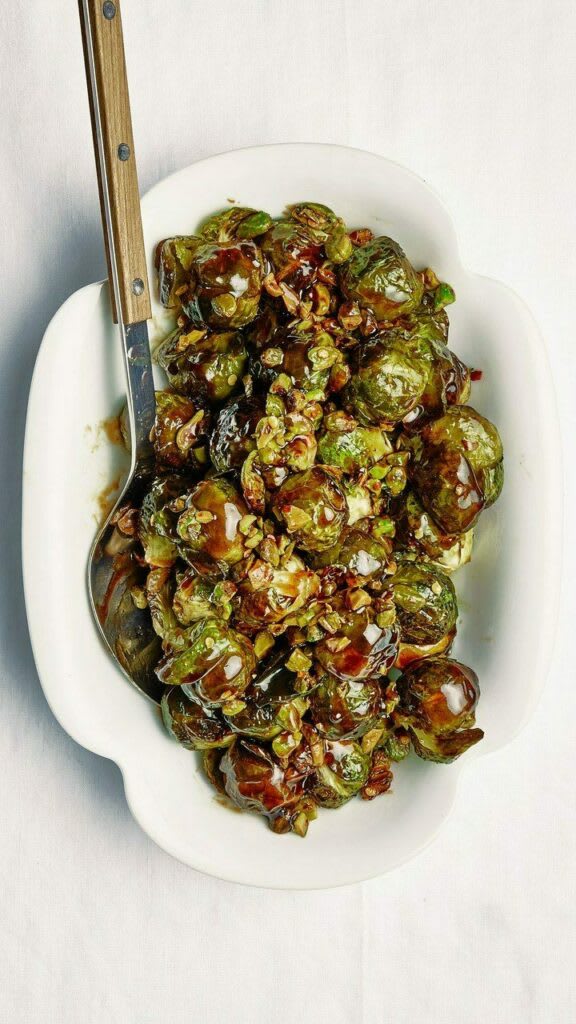 Ingredients
2 lb. small brussels sprouts, trimmed
3 Tbsp. vegetable oil
Kosher salt, freshly ground pepper
3 Tbsp. unsalted butter
3 Tbsp. raw pistachios
2 Tbsp. date molasses or honey
1 tsp. honey
Zest of ½ lime
2 Tbsp. fresh lime juice
½ tsp. crushed red pepper flakes
Lime wedges (for serving; optional)
Recipe
Place a rack in lower third of oven; preheat to 450°. Toss brussels sprouts and oil in a large bowl to coat; season with salt and pepper. Roast brussels sprouts on a rimmed baking sheet 15 minutes, then shake baking sheet to loosen them. Continue to roast until deeply browned all over, 5–10 minutes longer. Reduce oven temperature to 350° and roast another 10 minutes. Shake baking sheet again, then roast brussels sprouts until the tip of a small knife easily slides through, 5–10 minutes longer (total cook time will be 35–45 minutes).
See more
.
Vegan Apple, Sage, and Sausage Stuffing
Kelly's Favorite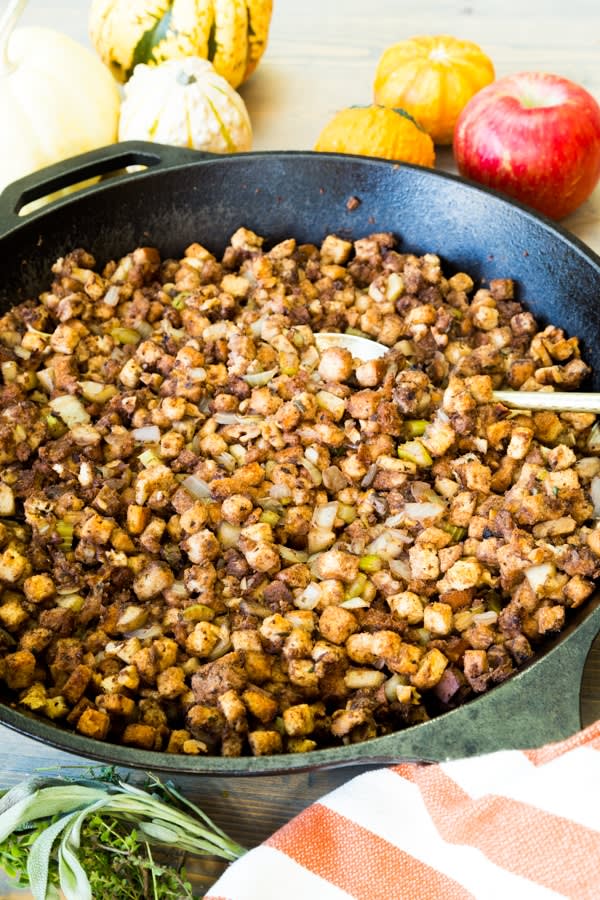 Ingredients
2 tbsp extra-virgin olive oil
1 tbsp vegan butter
1 large Vidalia onion diced
3 celery stalks diced
2 medium apples cored, peeled and diced
2 garlic cloves minced
1 cup chopped walnuts toasted
2 vegan sausages chopped (we use Beyond Meat's Hot Italian)
2 tbsp fresh sage minced
2 tbsp fresh thyme minced
Sea salt and black pepper to taste
1 14 oz bag unseasoned cubed breadcrumbs
3 cups low-sodium vegetable broth
Recipe
Step One
Dice the apples, onion, celery, sage and thyme and get ready to saute them
Step Two
Heat the olive oil and butter and when they're hot, add the onions and celery and cook for approximately five minutes. Then add the apples and cook for another five minutes.
Step Three
While the onions, celery, and apples are cooking, chop up the sausage and toast the walnuts.
See more
.
Classic Turkey Gravy
Daria & Jennie's Favorite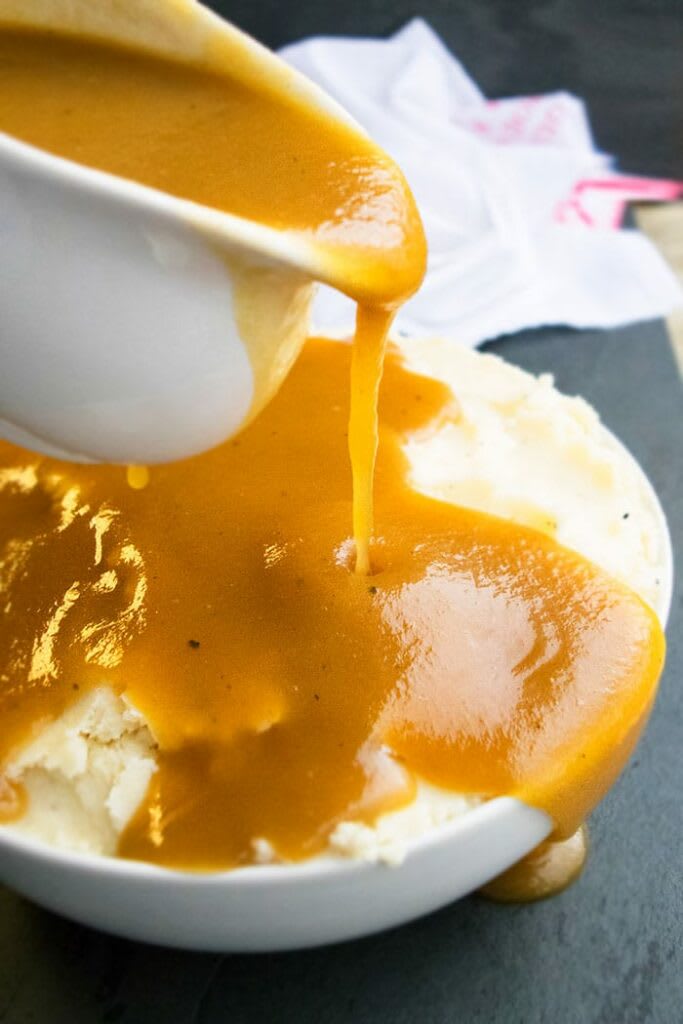 Ingredients
For the broth:
2 tablespoons unsalted butter
1 medium onion or leek, or 2 shallots, sliced
Neck and giblets from your turkey (discard the liver)
8 cups low-sodium chicken broth
3 sprigs thyme, parsley, rosemary and/or sage
1 bay leaf
For the gravy:
Turkey drippings from your roasting pan
1/2 cup all-purpose flour
Dash of Worcestershire sauce
Kosher salt and freshly ground pepper
2 tablespoons cold Flavored Butter, recipe follows (optional)
Recipe
When your turkey goes into the oven, start the broth: Melt the butter in a large saucepan over medium-low heat. Add the onion and turkey neck and giblets; cook, stirring, until the giblets are browned, about 15 minutes. Add the chicken broth, herb sprigs, and bay leaf; cover and simmer while the turkey roasts, about 2 hours. Strain the broth and keep warm; reserve the neck and giblets, if desired.
See more
.
Apple Crisp
Beth's Favorite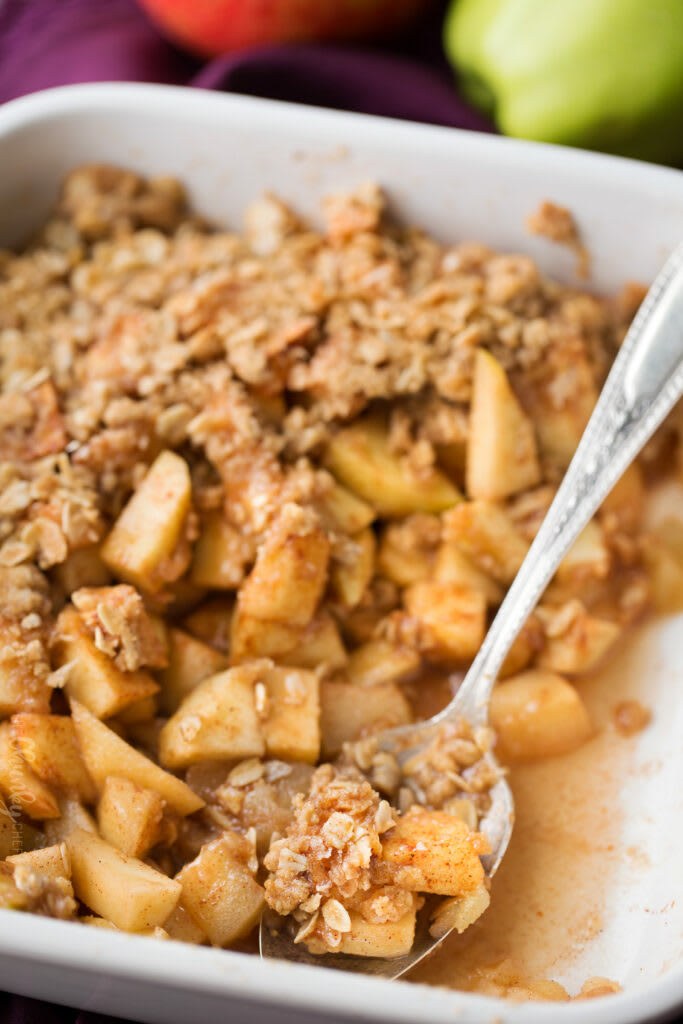 Ingredients
2 lbs of cooking apples peeled and sliced
1/4 cup of water
1/2 cup of granulated sugar
1/2 cup light brown sugar
1 level tsp of cinnamon
1/4 tsp salt
3/4 cup of flour
1/2 cup of butter
Recipe
Put apples in a 2 qt. casserole dish, add water. Combine sugars, cinnamon, salt, and flour. Cut in butter with a pastry blender. Spoon evenly over apples, cover, and bake in a preheated oven at 350 degrees for 30 minutes. Uncover and bake for 30 minutes longer.
Brown Sugar Sweet Potato Pie
John's Favorite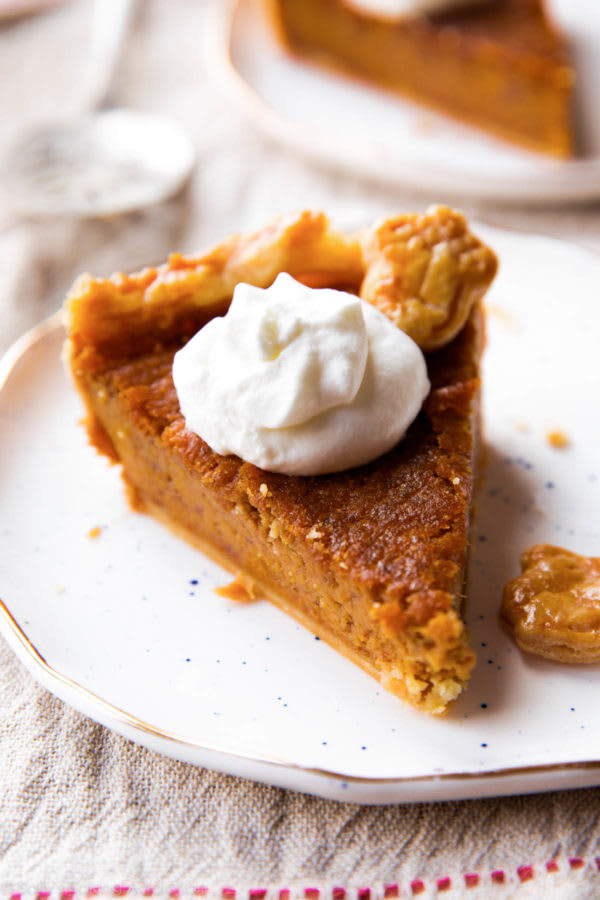 Ingredients
Sweet Potatoes: Can't have sweet potato pie without sweet potatoes! Use about 1 pound.
Heavy Cream + Butter: Both butter and cream add flavor and guarantee a smooth and creamy texture. Make sure your butter is proper room temperature.
Brown Sugar: Brown sugar sets this pie apart from other sweet potato pies and pairs perfectly with the natural sweetness of sweet potatoes.
Flour: A touch of flour thickens the filling.
Eggs: Eggs provide the pie's structure.
Fall Spices: The cozy combination of cinnamon, nutmeg, cloves, and ginger creates an elevated flavor profile. What a line-up of ingredients!
Vanilla Extract: Vanilla is a must in sweet potato pie! Try using homemade vanilla extract.
Recipe
Make pie dough. I recommend preparing your pie crust ahead of time. When wrapped tightly, you can refrigerate it for up to five days and freeze it for up to three months. Having pie crust ready to go is a huge time saver around the holidays! (And any time, who am I kidding?)
Boil potatoes. Boil the sweet potatoes until the skins are loose and the potatoes are super soft, about 45-50 minutes.
Roll out pie dough. Roll out the pie dough, then carefully tuck into your pie dish. Trim the excess dough, then flute the edges.
Prepare potatoes. Peel off the skin– which slides right off because the potatoes have boiled, then cut into large chunks and place into mixing bowl. I recommend mashing your sweet potatoes BEFORE beating in the other ingredients so you can begin with a totally smooth and creamy base. No lumps, no stringiness! See more.